The 3 best tools to build an impressive corporate magazine
In this article, we'll consider 3 of the best tools you can use to design and build an impressive corporate magazine.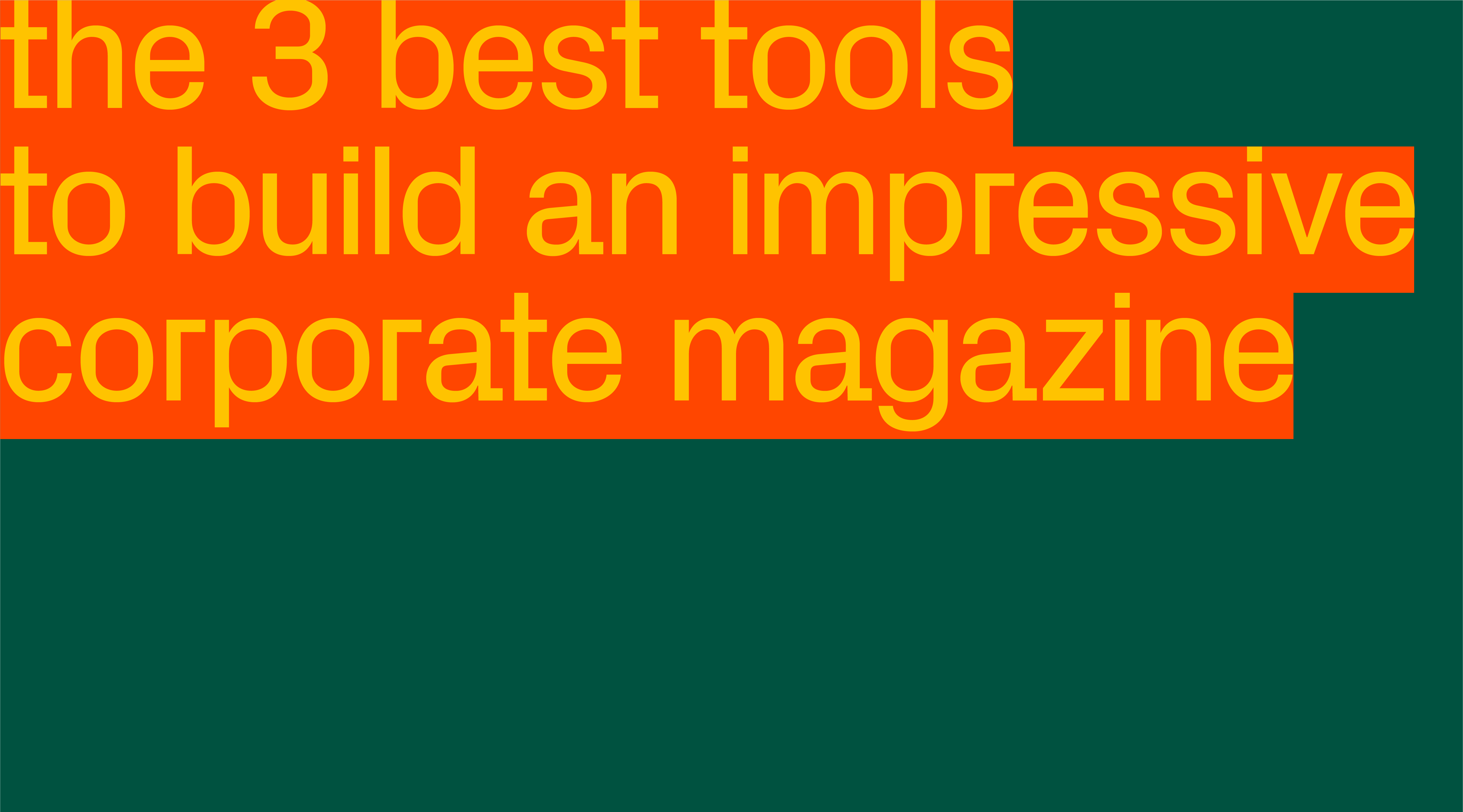 A corporate magazine can be a tangible way for your business to personify your brand, communicate with clients and stakeholders, and promote your products. It's an appealing prospect – but how do you turn it into reality?
When it comes to crafting a corporate magazine, the devil's in the details. From an impactful cover design to impeccably written features, publishing high-quality content can be made considerably easier by having the right tools on hand.
In this article, we'll consider 3 of the best tools you can use to design and build an impressive corporate magazine:
Lottie Files Platform: An animation workspace
Luminar Neo: An AI-powered photo editing software solution
Readymag: An in-browser design tool to create all kinds of digital publications without code
An animation tool that's intuitive and easy to use
One of the most powerful advantages that digital journalism has over print is the ability to incorporate dynamic visual elements such as animation. Animation has the power to evoke emotion through your storytelling, increasing engagement and creating the kind of brand loyalty that delivers.
However, using animation for the sake of it – or worse, over-using it – can be more off-putting than sticking to static content. When it comes to choosing the right animation tool for your company, we'd recommend opting for a tool that lets you create and integrate your motion elements with ease.
Lottie
Our pick for the best animation tool is the Lottie Files platform. Lottie Files – the creator of the minuscule 'Lottie' file format – provides an open-source animation workflow platform including ready-to-use motion graphics, editing capabilities, and animation testing.
Lottie Files allows you to create simple animations to incorporate into your online magazine. Straight-forward integrations allow animations to be flawlessly embedded into your content, while interactive and responsive elements make your readers a part of the story.
AI-powered photo editing
Whether you publish in print or online, imagery is an essential component of any corporate magazine. It immerses readers into your stories, brand, and product.
When it comes to choosing a photo editing tool, we'd recommend taking stock of the type and degree of editing you're likely to want to carry out before committing to a tool that might have a bunch of features you will never use.
Luminar Neo
If you're looking for a high-end editing tool, then the latest photo editing software solution from Skylum – Luminar Neo – is a great place to start.
Combining the benefits of the previous two iterations – Luminar 4 and Luminar AI – into a single package, Luminar Neo functions in two ways: as a standalone macOS and Windows application, or as a handy plugin for Adobe Photoshop, Lightroom, or Photos for macOS.
In terms of features, Neo is packed full of useful additions, including:
Face, skin, and masking AI
Portrait background removal AI tool
AI clean-up tool
Power line removal
Sky replacement
New layer manipulation options
Portrait Bokeh effect AI
The incorporation of AI elements into a photo editor can help make editing images for your corporate magazine faster and easier over time, as your software makes recommendations based on existing imagery and previous edits. This can also be a simple way to keep your editing consistent, instilling the subtleties of your brand into your visual content with every edit.

Designing your corporate magazine from a web browser
The third tool on our list is Readymag, a browser-based, no-code design solution that makes it easy to build an impressive corporate magazine right from your web browser.
With Readymag, you can create professional page layouts using free composition that is enhanced by a customizable grid feature. Whether you choose to start with a ready-to-use template or opt for a blank page, Readymag has been designed to prioritize creative freedom.
Let's take a look at some of the features that make this tool stand out:
Readymag's simple interface encourages collaborative working, allowing you to seamlessly hand over your project to other members of your design team.

With a comprehensive library of video tutorials, guides, and templates at your fingertips – as well as a friendly customer support team – creating an impressive corporate magazine just got a whole lot easier.
Case study: SOFA
Indie magazine SOFA used Readymag to create a seamless design for their transition to a digital landscape. The goal was to create an artistic space that "documents the shifting chaotic energy of the internet". Founding editor-in-chief Ricarda Messner comments:
"We wanted to create a digital space that would work as a portal to this world and could help materialize the concept of an ongoing chatroom and discussion space. One where the audience can feed directly into the conversations we're having, creating a deeper sense of community and intimacy."
For more great examples of businesses that have put Readymag into action, you can check out our customer use cases.
Create a corporate magazine that doesn't feel so… corporate
In this article, we've introduced you to 3 great tools you can start with. Lottie Files and Luminar Neo offer great stand-alone offerings. If you're looking to hit the nail on the head in one go, your team can find everything they need in Readymag's web-based design tool.
With Readymag, you can lay out your project, enhance it with multimedia elements and animations, check how it will display across devices, and publish it online – all from one spot. Check out Readymag today.  For free.
Design outstanding web in Readymag. Join now